Comedian Miles Jupp stars as James Boswell in the brand new radio comedy series Boswell's Lives premiering on BBC Radio 4 on Wednesday 25 February 2015.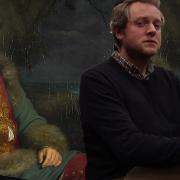 In the first episode we will hear Boswell travelling to Vienna in an attempt to write a biography of psychoanalyst Siegmund Freud (Henry Goodman). Two further episodes have been recorded in which Boswell will attempt to pen the lives of opera legend Maria Callas (Arabella Weir) and playwright Harold Pinter (Harry Enfield).
Though London-born, Jupp is probably best known for his four year stint playing Archie the Inventor in the BBC Scotland children's television series Balamory (2002-2005) and for his role as Nigel opposite Tom Hollander in the BBC sitcom Rev. (2010-2014). Jupp also starred in the BBC radio comedy In and Out of the Kitchen (2011, 2013, 2014) as fussy perfectionist culinary writer Damien Trench.
Boswell's Lives is written by Jon Canter, an author and former president of the Cambridge Footlights club, who has also written material for comedy legends such as Lenny Henry, Dawn French, Angus Deayton and Griff Rhys-Jones. 
Some audio clips from Boswell's Lives are available on the BBC Web site, including an additional two minute clip featuring an encounter between Boswell and Boris Johnson, which is apparently not part of any of the scheduled broadcasts.
Schedule
Boswell's Life of Freud. BBC Radio 4. February 25, 11:30 (GMT).
Boswell's Life of Callas. BBC Radio 4. March 4, 11:30 (GMT).
Boswell's Life of Pinter. BBC Radio 4. March 11, 11:30 (GMT).