James Boswell (1740-1795) - advocate, traveller, journalist, Scotsman and author of that most amazing book, the Life of Johnson.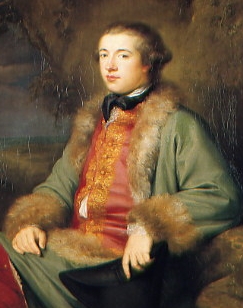 Born on the 29th of October, 1740 in Edinburgh, James Boswell became known for his friendship with Dr Johnson, his Account of Corsica (1768) and in the last years of his life, for the 1791 biography of his friend Samuel Johnson. During the course of his life, he met an amazing number of the great and powerful, of the literati, the philosophers, academics and advocates of his time. In 1769 he married his cousin Margaret Montgomerie, and in 1782 he became the 9th Laird of Auchinleck, his ancestral home. He died in May 1795 in London, following weeks of serious illness.
Discovered by scholars in the 1920s, Boswell's long-lost journals was one of the major literary discoveries of the 20th century. In his detailed and honest journal entries from the early 1760s until shortly before his death, we get his unique first-hand observations of life and personalities in the second half of the 18th century. Had he not written the Life of Johnson, his journals would still secure his fame for posterity.
See below for a brief timeline of his life. If you would rather read about some of the many interesting personalities, whom he met during his eventful life, you can find articles about them and their relationships with Boswell here.
Timeline
October 29, 1740: James Boswell is born in Edinburgh, the son of advocate - later to become a judge - Alexander Boswell and Euphemia Erskine.
1753-1758: Boswell attends the University of Edinburgh. Here he meets fellow students John Johnston and William Temple, who both become his lifelong friends.
May 16, 1763: James Boswell and Samuel Johnson meet for the very first time, in Thomas Davies' bookshop near Covent Garden.
1763-1764: Boswell studies law in Utrecht.
1764-1766: Boswell goes on a Grand Tour of Europe, visiting numerous German courts, philosophers Rousseau and Voltaire and many Italian cities, before going to the interior of the wild island of Corsica, where he befriends the rebel leader Pasquale Paoli.
July 26, 1766: Boswell completes his legal education with the dissertation Disputatio juridica de supellectile legata quam publicae disquisitioni. Some of the Latin used in the dissertation was memorably criticised by Dr Johnson in a letter which was later included in the Life of Johnson.
1768: Boswell gains some fame as the author of An Account of Corsica, which becomes very successful and is quickly translated into several languages.
November 25, 1769: Boswell marries his first cousin, the daughter of his father's sister, Margaret Montgomerie.
1782: Alexander Boswell, Lord Auchinleck, dies, leaving Auchinleck House to James.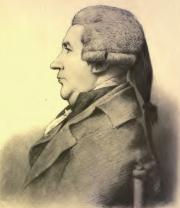 1785: The Journal of a Tour to the Hebrides is published, as an edited version of the journal he wrote during his journey through Scotland with Dr Johnson in 1773.
January 11, 1788: Boswell elected Recorder of Carlisle1 . He resigned the position in 1790.
June 4, 1789: Margaret Montgomerie, Boswell's wife, dies while James is en route from London to Auchinleck.
May 16, 1791: The Life of Johnson is finally published after years of hard work.
May 19, 1795: James Boswell dies in his house on Gt. Portland Street in London, following weeks of serious illness.
1

The Recorder was the senior judge of some important urban centres, which were given the right to appoint a Recorder by the Crown. Typically, the appointment would be given to a senior and distinguished practitioner at the Bar, and it was, therefore, usually executed part-time only, by a person whose usual practice was as a barrister. It carried a great deal of prestige