Image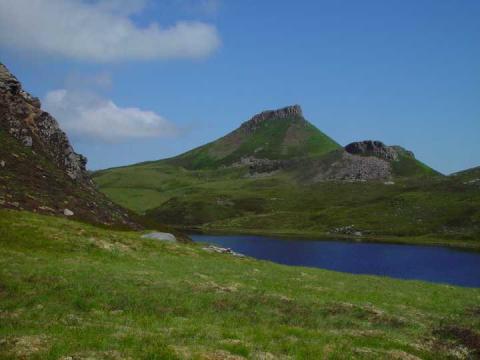 An island between the Isle of Skye and the mainland of Scotland, separated from Skye by the Sound of Raasay and from Applecross by the Inner Sound. As of 2013, it had a population of 161.
The island was for a long time the seat of the Macleods of Raasay, who were staunch supporters of the Jacobite cause, and Prince Charles Edward Stuart (Bonnie Prince Charlie) even hid for two days on the island, following the failure of the Jacobite rebellion in 1745-46. In retribution for Raasay's support the the Stuarts, government troops landed in Raasay, destroyed Raasay House and set fire to every house on the island. The island had recovered well by the time Boswell and Johnson visited it in 1773.
It is possible to go to Raasay by ferry from Sconser on Skye, which sails several times daily. There are also various options for accomodation, including staying at Raasay House Hotel or the Isle of Raasay Destillery. 
The image shows Dun Cann, which at 443 meters is the highest point on Raasay. Boswell walked to the top of that hill on September 10, 1773, eating cold mutton, bread and cheese, and drank brandy and punch there, together with Malmcolm Macleod of Brae, Donald Macleod of Canna, John Macqueen, and his servant Joseph.
Subscribe to Raasay